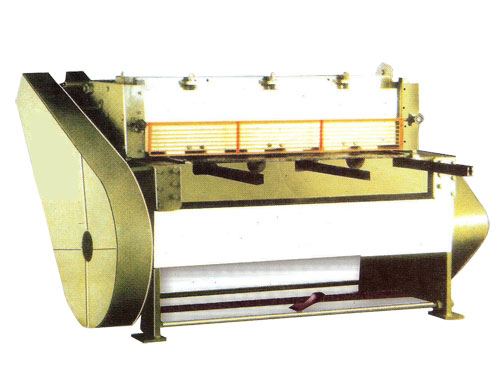 Constuction
All IIMC Guellotine shears are fabricated form is 226 Grade. Rolled steel plates. Table and Cutting beam are deeply reinforced and finish, machined after strees relieving. The interlocked design put the direct support to frame. thus frame is strain frame is strain free and eliminates welds at load supports. Thus the accuracy of the machine is never disturbed.
Clutch & Brake
The all shears are provided with rolling key type cluch, from alloy steel. The clutch gives continuous stroke for mass productions. Brake is provided on the main shaft giving sufficient adjustment to increase the performance and accuracy.
Holddown System
All shear are provide with spring loaded Holding pads. All spring loaded pads maintains a positive and Uniform pressure along the full length of the work piece preventing slippage, Regardless of the thickness variation.
Standard Accessories
• Foot Pedal
• Gear & Wheel Guard
• Shear Blade
• Lubrication System
• Motor Pulley
• Front Gauge
• Back Gauge
Optional Supply
• Motor Starter "V" Belts
• Extra set of blade
• Foundation bolts
• Stroke Counter
Specifications
Cutting Capacity

Rtroke Minute (Nos)
Table Height (Nos)
Front Gauge
Rear Gauge
Table Width
Motor HP/1500 RPM
Size of Blade
Overall Dimansions
Length
Width
Thick
Length
Width
Thick
1270 x 2
55
850
600
500
400
3
1270
50
12
2100
1900
1300
1525 x 2
55
850
600
500
400
3
1525
50
12
2360
1900
1300
2030 x 2
55
850
600
500
400
5
2030
50
12
2825
1900
1300
2540 x 2

55
850
600
500
400
5
2540
50
12
3325
1900
1300
3125 x 2
55
850
600
500
400
7.5
3125
50
12
3910
1900
1300
1270 x 4
50
900
600
600
450
5
1720
63
18
2300
2000
1350
1525 x 4
50
900
600
600
450
5
1525
63
18
2550
2000
1350
2030 x 4
50
900
600
750
450
7.5
2030
63
18
3100
2000
1350
2540 x 4
50
900
600
750
450
7.5
2540
63
18
3600
2000
1350
3125 x 4
50
900
600
750
450
10
3125
63
18
4200
2000
1350
Download Catalog in PDF Format