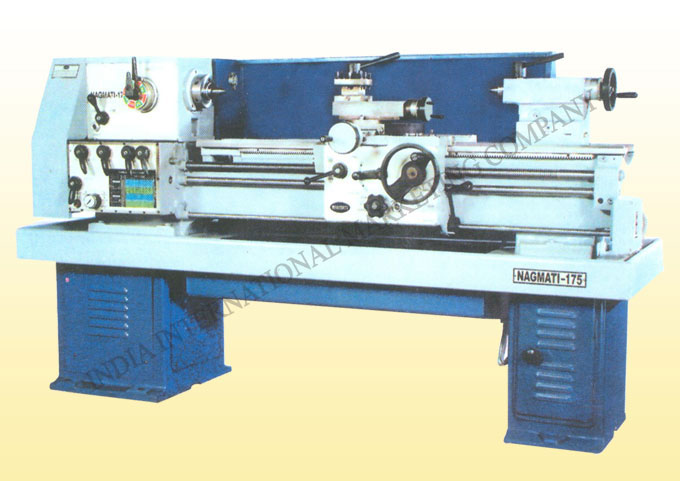 Features
• GRADE – 25 HARDENED AND GROUND BED GUIDEWAYS.
• HARDENED & GROUND ALLOY STEEL GEARS & SPINDLE IN HEAD STOCK
• HARDENED & GROUND TAIL STOCK RAM
• ALL CRITICAL COMPONENTS LIKE SHAFTS, GEARS, PINS, LEAD SCREW ARE MADE OUT OF EN-8/ EN-9 ALLOY STEEL
• ACCURACY CONFORMS TO INDIAN STANDARD No. I.S. : 1878 (PART - l) – 1993.
Salient Features:
• IS.20/25 graded casting
• Rigid and box section type 240 mm wide bed provides maximum torsional stiffness.
• Rigid and accurate, alloy steel hardened and ground main spindle mounted on precision taper roller bearings & ball bearings.
• Forced lubrication in universal feed gear box. Apron with oil bath.
• Thread and feed mechanism interlocked (Only one can be engaged a time).
• Camlock spindle nose (DI-4 type)
• Overload Protection through suitable relays and contractors.
• Switch shaft lever fix at carriage to rev. forward & stopped main spindle.
Built-in Accuracy:
• All major castings are artificially seasoned for retaining built-in accuracy.
• Critical components precision machined on imported mother machines.
• Induction hardened and alloy steel gears of head stock mounted on precision spined shaft and running in oil bath.
• Flame hardened and ground bed for sustained accuracy.
• Alloy steel lead screw threads produced on WMW thread milling machine.
• Each machine is tested to IS-1878 (Part) 1993.
Versatility:
• Built-in gap bed.
• Universal feed gear box for easy selection of wide range of feeds and threads through levers. No change gears required.
• Instantaneous spindle reversal while threading.
• Wide variety of optional accessories for higher productivity.
Interchangeability:
• All components are machined using jigs and fixtures on imported mother machines to close tolerances thus providing easy interchangeability.
Technical Data
Centre
Height
175 mm
Admit between Centre
650 or 1000 mm
Swing
Over bed
350mm
Over cross side
215 mm
In gap
540mm
Spindle
Bore
41mm
Nose
Camlock Di-4
(IS 2582 Part 11-1972)
Morse taper in nose
MT. No.5
Morse taper in nose bush
MT. No.3
Speed
Number
8
Range
54 to 1200 or
67 to 1500 r.p.m.
Motor
1440 r.p.m.
50 cycles.
3 phase
AC power
2.25 KW/3 H.P.
Lead Screw
Diameter
28 mm
Thread
6 mm pitch
Thread
Metric pitches
From 05. mm to 6 mm
British pitches
From 4 to 60 TPI
Feeds
Longitudinal
From 0.089 mm
to 1 .330 mm per rew
Cross
0.5 times of
longitudinal feeds
Tailstock
Quill diameter
50 mm
Quill travel
140 mm
Taper
M.T.-3
Net weight
950 kgs.
Gross weight Shipping
1150 kgs.
Dimensions
Length
2.14 m
Width
0.95 m
Height
1.5m
Volume
3.5 cu. m.
Construction
Head stock
8 different speeds possible. The headstock is all geared type, having splash lubrication. It houses the main spindle and the gears (for 8 different speed). The drive is taken from the motor, which is housed inside the left pedestal. And, the speed changeover levers are conveniently placed – to ensure quick setting of the required speed. The headstock is well seasoned and the gears are hardened and ground. what's more the bed other castings are all made to ISI standards.
Feed gear box
Is provided with a feed gear box for cutting inch and metric series threads. Setting of the correct pitch is quick, and can be done easily by using the changelevers and knob. The gears however, are lubricated by a plunger pump driven by an eccentric pin and a cam. No gear charging is required.
Apron with oil bath
The apron design is of the 'totally enclosed' type and comprises an oil bath, in which the gears of the apron run. The half nut lever is interlocked with the feed lever so that only one can be operated when the other is not in use. And, both the sliding and the surfacing feed can be engaged by the friction clutch lever.
Rigid tail stock
It is robust in construction and is fitted on a separate vee guide on the bed; this ensures highly accurate alignment along the entire length of the tailstock. Further, It can be set over on either side, for turning small tapers. And, it is possible to clamp the tailstock casting along the bed by using a single levered cam type clamp.
Standard Accessories
All machines are equipped with motor and complete electricals for 415 volts, 50 cycles, 3 phase supply. Carrier plate, Centre bush, 2 Nos. MT-3 Dead centres, tool post spanner, thread dial indicator, 4- way tool post, camlock operating handle & Instruction manual.
Optional Accessories
Face plate, Steady rest, Follow rest, Coolant pump with thanks and fittings, Taper turning. Attachment, Chuck flanges, 3 Jaws selfcentering chuck, back plate, Rear tool post, machine lamp. Rear splash guard, foot brake, 4 Jaws dog chuck.
Note : As improvement are constantly made in our machine, the specification are subject to change without notice and are not binding on us.
Download Catalog in PDF Format