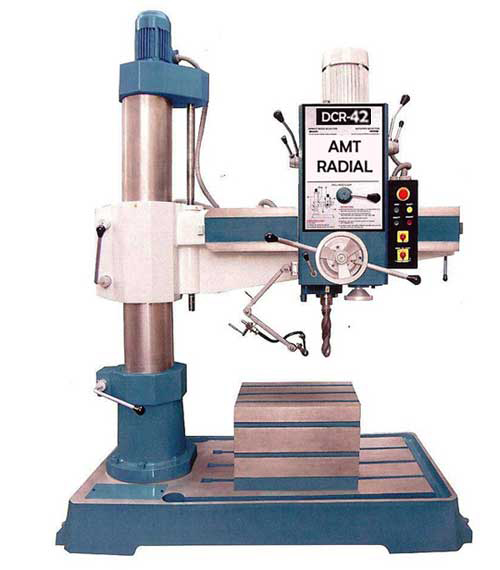 Specifications
DESCRIPTION
DCR-42
Drilling in M.S.
42 (15/8)
Drilling in C.L.
50
Rough Boring in M.S.
60
Tapping in M.S.
MT-4
Spindle Speeds (RPM X Steps)
12 Steps 60,90,115,165,200,290,340,480,575,825,1005,1510,
Diameter of RAM (quill)
80
Spindle Autofeed Ranges (mm/rev.)
6 Steps 0.1, 0.15, 0.20, 0.27, 0.33, 0.52
Max / Min Dist. Spindle nose to base
1155 / 400
Vertical Travel of Arm
755
Max / Min Dis. Spindle center to column
1025 / 275
Horizental Travel of Arm
750
Max. Drilling Radius
1137
Machine Mesurement (L x B x H)
1600 x 850 x 2190
Diameter of column
225
Work Table
550 x 450 x 400
Coolant Tank
770 x 430 x 145
50 liters
Drill-head Moter
2HP (1.5 KW)
960 / 1440 RPM
Lifting Motor (L x B x H)
1 HP (0.75 KW)
960 RPM
Standard Accessories
• 2 HP & 1 HP Electric Motors.
• Electrial Panel Board
• Coolant Pump & Spout Assembly
Extra Accessories
• Drill Chuck & Arbor
• Work Table
• Tapping Attachment (Mechanical)
• Drill Vice

Column Assembly
• Double column type structure with Dai 225 mm and INSIDE RIBS for more rigidity and smooth movement

Arm Assembly
• Arm and Column are rigidly built with reinforcement ribs to reduce distortion, to give high capacity and long lasting accurancy

Gears
• All gears in gearbox are made up of NiCr Steel with hardness of 50-55 HRC with thickness of 15 mm

Shfts of gears
• All Shaft made of NiCr alloy steel with hardness 55 HRC

All Four splines and six splines of shafts are GROUND on Spline Grinding Machine.
Lifting Nut
• 4" long Lifting Screw nut made up of bronze metal

Spindle
• Spindle, RAM(Quill) and Pinion are made up of NiCr steel with final hardness of 55 HRC

Autofeed System
• 6 autofeed having near geometric progression for all processes to be done like drilling, reaming, boring etc.
• Overload sefety clutch system for tool protection
• Spindle auto-stop with tracel adjustment.
• Spindle Lock System for milling Operation.
Ram(Quill) Cylider Liner
• Head stock is provided with high grade cast iron cylinder liner like in automobile engines for easy sliding movement of RAM(Quill) and very long life. Also it ensures
interchangeability when replacing after wear out.
Base
• More Wider base for better working area
• In-built coolant tank of 50 liters
• Rigid box type construction