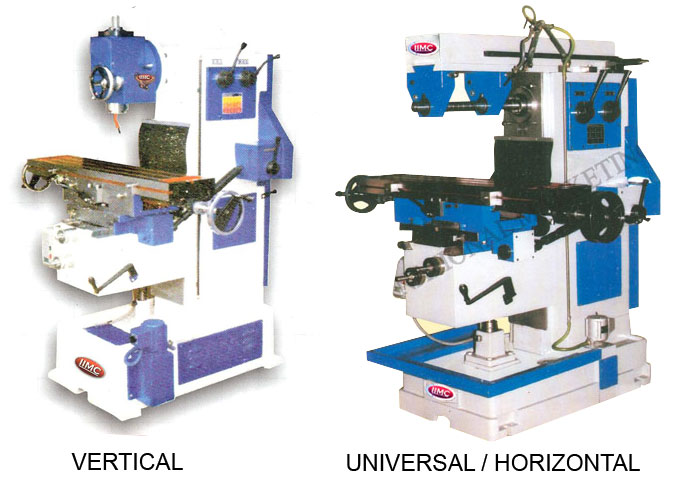 Technical Data
| | | | | |
| --- | --- | --- | --- | --- |
| | Model | GM 1U | GM 1.5U / 1.5V | GM 2U / 2V |
| | TABLE | MM | MM | MM |
| | Working Surface | 1050 x 240 | 1140 x 255 | 1270 x 300 |
| | No. Of T. Slots/ Size | 3 x 14 | 3 x 14 | 3 x 16 |
| | Centre Distance between T-Slots | 60 | 60 | 70 |
| | Swivel | ± 45° | ± 45° | ± 45° |
| | Longitudinal Travel X | 550 | 600 | 700 |
| | Cross Travel Y | 170 | 230 | 255 |
| | Vertical Travel Z | 340 | 410 | 450 |
| | SPINDLE | | | |
| | NO. Of Spindle Speeds | 9 | 9 | 9 |
| | Range of Spindle Speeds | 58-768 | 58-768 | 63- 727 |
| | Spindle Taper | ISO 40 | ISO 40 | ISO 40 |
| | Arbor Diameter | 25.4 | 25.4 | 25.4 |
| | FEED | | | |
| | No of feeds | 3 | 3 | 3 |
| | ELECTRICALS | | | |
| | Main Motor 1440 RPM | 2 H.P | 2 H.P | 3 H.P |
| | Coolant Pump Motor | 0.1 H.P. | 0.1 H.P. | 0.1 H.P. |
| | SHIPPING DIMENSIDNS | | | |
| | Length x Width x Height (cm) | 132 x 117 x 170 | 140 x 125 x 195 | 173 x 137 x 220 |
| | Net Weight (Kg.) | 1000 | 1250 | 2000 |
| | Gross Weight (Kg.) | 1300 | 1600 | 2500 |
Standard Accessories
• Handle
• Machine Pully
Optional Accessories
• Vertical attachment head, Slotting attacment, Rack cutting attacment, Dividing Head, Rotary table, Milling machine vice, Machine lamp.
Specifications are not binding and are subject to modification and change without notice. The standard and optional accessories listed are provisional. Final list will be as per our offer.

RIGID. RUGGED, RELIABLE

These high precision turret ram type milling machines are built with proven designs, tight engineering standards and quality materials. In addition to these there are features such as hardened ways and turcite coating on saddle ways. These make the machines rigid and reliable.
Download Catalog in PDF Format