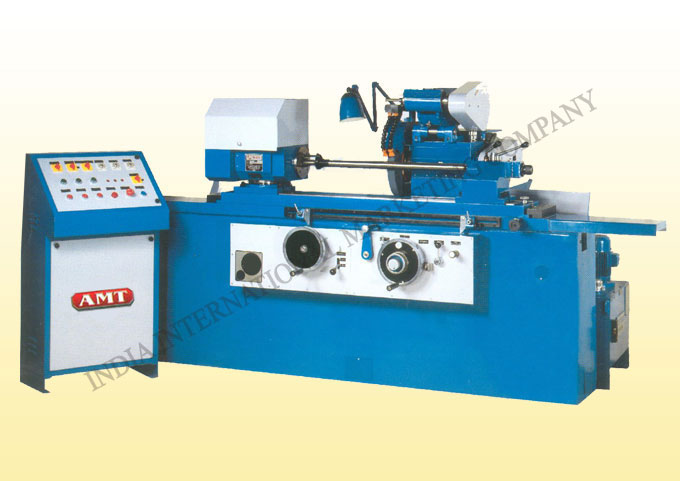 SALIENT FEATURES
MACHINE BED
• The machine bed is of one piece, close grained, graded cast iron.
• Box structure design, heavily reinforced with ribs, provides high rigidity and stability.
MACHINE GUIDEWAYS
• Machine guide ways of V-Flat construction are precisely hand scrapped.
• The work head table as well as grinding wheel head slideways are coated with "TURCITE-B" linear bearing material which gives stick slip free movements, excellent
vibration damping and high repetitive positioning accuracy.
• Continuous automatic lubrication system provided for guide ways. Centralized lubrication system is also provided, for efficient and positive lubrication of other moving
parts.
WORK HEAD
• The machine has a rigid Universal Work head, which can be swiveled to facilitate taper grinding.
• Work head spindle can be locked for grinding between centers or it can be rotated with the driving plate to carry work holding fixtures like collet, face plate or chuck.
WHEEL HEAD
• Wheel head spindle is made of special alloy steel, specially heart treated, ground and lapped to achieve high dimensional stability and long life.
• Spindle runs in precision White metal bush bearings, which give very high accuracy and excellent surface finish to the work piece.
INFEED SYSTEM
• Infeed system comprises of hardened and ground feed screw, which ensures high positioning accuracy and repeatability.
• Specially designed nut having backlash adjustment is provided.
• Automatic infeed at table reversal.
• Hydraulically operated Rapid approach / Retraction of wheel head slide.
TAILSTOCK
• Tailstock is of single piece construction for maximum rigidity.
• zHydraulic actuation of Tailstock can be offered as optional.
AUTOMATIC GRINDING CYCLE (Optional)
• Single lever operated Automatic Plunge and Traverse grinding cycles.
• Cycle operates as Work head & coolant ON-Rapid approach-Auto feed-Spark off-Rapid retraction and infeed hand wheel to starting position-Work head & Coolant OFF.
• Amount of infeed, infeed rate and spark off time are adjustable.s
DWELL
• Electronic dwelling arrangement provided for effective End grinding operations. Separate timers for left and right ends.
INTERNAL GRINDING ATTACHEMENT (Optional)
• Internal grinding attachment with its independent drive motor is hinged on the wheel head and can be quickly lowered into grinding position.
• Variety of Internal Grinding spindles can be offered.
HYDRAULICS
• Hydraulic power pack with solenoid valves is housed outside the machine.
• Extremely good thermal stability is achieved in the machine by isolating the hydraulic unit.
ELECTRICALS
• Electrical/Electronic controls are contained in separate control cabinet, outside the machine, making it proof and provide easy maintenance.
OPTIONAL
• Stepless variable workspeed, 200 mm centre height in lieu of 150 mm & Inprocess Guage.
T
ECHNICAL

D

ETAILS
| | | | | | | | |
| --- | --- | --- | --- | --- | --- | --- | --- |
| MODEL | | HL 300/150 | HL 500/150-U | HL 800/150-U | HL 1000/200 | HL 1250/200 | HL 1500/200 |
| Centre height | mm | 150 | 150 | 150 | 150 | 150 | 150 |
| Max. grinding length | mm | 300 | 500 | 300 | 300 | 300 | 300 |
| Max. swivel of table | deg | ± 8 | ± 8 | ± 8 | ± 7 | ± 6 | ± 5 |
| Table speed inf. variable | m/min | 0.1-4 | 0.1-4 | 0.1-4 | 0.1-4 | 0.1-4 | 0.1-4 |
| Dwell at reversals | sec | - | 0 – 60 | 0 – 60 | 0 – 60 | 0 – 60 | 0 – 60 |
| Grinding Wheel (d x w) | mm | 300x25 | 350x40 | 350x40 | 400x40 | 400x40 | 500x40 |
| Wheel head rapid approach | mm | - | 50 | 50 | 50 | 50 | 50 |
| Wheel head swivel | deg | - | ± 60 | ± 60 | - | - | - |
| No.of work head speeds | | 3 | 4 | 4 | 8 | 8 | 8 |
| Work head swivelmt | deg | ± 90 | ± 90 | ± 90 | ± 90 | ± 90 | ± 90 |
| Work head centre | MT | 4 | 4 | 4 | 4 | 4 | 5 |
| Tail stock centre | MT | 3 | 3 | 3 | 4 | 4 | 4 |
| Internal Grinding Spindle | mm | Ø60x250 | Ø60x250 | Ø60x250 | Ø80x250 | Ø80x250 | Ø80x250 |
Download Catalog in PDF Format