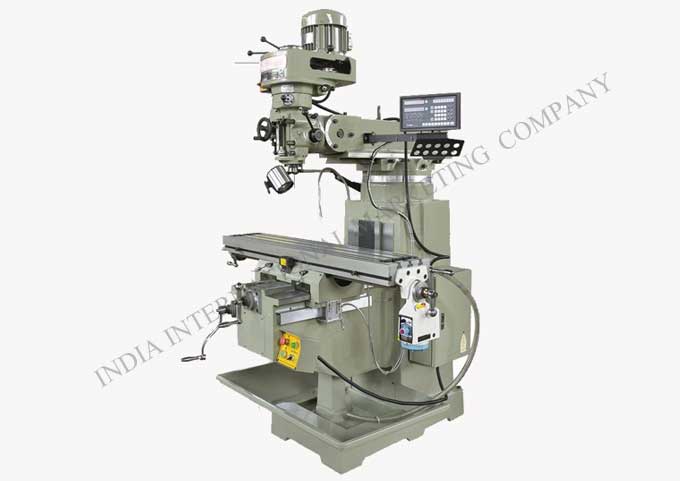 Why Accucut Milling Machines?
Milling Machines have been designed to give its user with accurate and precise results. It has 55 degree dovetail Y-Axis and Z-axis guide way, making the machine more stable and easy to adjust. The guide way on saddle is lined with TF wearable material. The worktable surface and 3 axis guides way are hardened and precisely ground.
Salient Features
• Adjustable double Nut design for minimal backlash
• Double Lock on saddle, Ram & Knee
• X-axis & Y-axis lined with Turcite B Coating.
• Double speed motor for high RPM
• Built in standard coolant tank in the base of machine
• Electrical panel box fuse, overhauling
• Relays etc. of Siemen's make with 'CE' mark
• Hardened & Ground X & Y slide ways
SPECIFICATIONS
NO:3
NO:4
Table size(mm)
254x1270 (10"x50")
254x1370 (10"x50")
Longitudinal Travel (mm)
850
980
Cross Travel (mm)
385
400
Vertical Travel(mm) 3 numbers
380
400
Table T-slots(mm) 3 numbers
16x3x63
16x3x63
Spindle Motor (H.P.)
3
3
Spindle Speed (RPM)
16 Steps / 50-3500
16 Steps / 50-3500
Spindle Taper
R8
R8
Spindle Nose to table Top (mm.)
0-428
0-428
Spindle Centre to Column Surface (mm).
200-680
200-680
Quill Travel (mm)
127
127
Auto Quill Feeds (per revolution)mm
0.40/0.08/0.15
0.40/0.08/0.15
Head Swivel
(RxL)90 degree / (FxB) 45 degree
(RxL)90 degree / (FxB) 45 degree
Ram Travel (mm)
480
480
Net Weight (kgs.)
1280/1380kgs
1280/1380kgs
Y – Axis
Dovetail Guide Way
Dovetail Guide Way
Z – Axis
55dg. Swallow tail or Square
Guideway
55dg. Swallow tail or Square
Guideway
Standard Accessories
• 2-axis Sino DRO
• Coolant equipment
• Machine lamp
• Tool box
• Instruction manual
• Lubrication system
• Draw bar
• Meehanite castings
• Electric control panel
• Chip cover(rubber) front & back
Optional Accessories
• 8 Pcs R8 Collet Set
• 52 Pcs Clamping Kit
• Milling Vice – 6 Inches
• Boring Head
• 10"Rotary Table
Specifications are not binding and are subject to modification and change without notice. The standard and optional accessories listed are provisional. Final list will be as per our offer.

RIGID. RUGGED, RELIABLE

These high precision turret ram type milling machines are built with proven designs, tight engineering standards and quality materials. In addition to these there are features such as hardened ways and turcite coating on saddle ways. These make the machines rigid and reliable.
Download Catalog in PDF Format