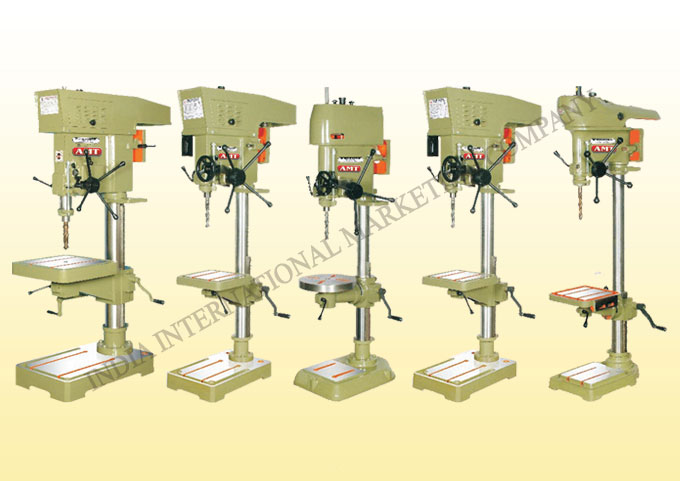 General Features :
• Main spindle and pinion made from EN steel by forging.
• Column, arm, work-head & gears made from finest closed grain cast iron; while spindle Ram trim Alloy steel.
• Main spindle run out is checked for accuracy as per IS 2199.
• For the smooth sliding of sliding arm, special 'slide-reliever-slots' are given.
• All moving parts are fine-finished with grinding to a close tolerance.
• International technic of 'Taper wedge setting'. for complete slide-setting instead of normal one point setting.
• Quality bearings with grease bath, so for permanent oiling.
• Main gear and pulley are perfectly balanced.
• Powder coated accessories for longer life and prevention of corrosion and pillage associated with usual chrome plating.
Model Code System
• P = Pillar Drill m/c
• 19/25/40 = Drilling capacity
• S = Square Head Model
• R = Round Head Model
• L = Long Spindle Travel
• A = Autofeed Model
• X = Xtra Heavy Model
SPECIFICATIONS
Specification
40A
40
25
25
20
Tilting working table
FIXED
FIXED
Upto 360°
FIXED
Upto 360°
Drilling capacity
40mm
40mm
25mm
25mm
20mm
Pillar Diameter
135mm
121mm
92mm
92mm
74.30mm
Spindle nose to table distance
495mm
595mm
645mm
660mm
650mm
Distance from Spindle nose to base distance
1000mm
1050mm
1000mm
1045mm
900mm
*Autofeed speed : (applies to PSL-40A only) 0.04 or 0.08
Distance from spindle center to pillar surface (in mm)
380 (Max.)
320 (Max.)
250 (Max.)
250 (Max.)
200 (Max.)
Table travel
500mm
480mm
480mm
480mm
200mm
Taper in spindle
MT-4
MT-4
MT-3
MT-3
MT-2
Number of Speed
8 speed
8 speed
8 speed
8 speed
8 speed
Range of speed (RPM)
60 to 2000
70 to 2000
70 to 2000
130 to 2600
80 to 3500
Table Size (in mm)
490 x 490
410 x 410
350 DIA.
330 x 330
260 x 260
Base Size (m/c Area in mm)
820 x 490
440 x 715
255 x 310
365 x 575
470 x 320
Overall Base Size (in mm)
825 x 495
445 x 720
425 x 670
370 x 580
490 x 310
Spindle Travel
250mm
250mm
250mm
180mm
130mm
Pillar Length
1475mm
1450mm
1400mm
1410mm
110mm
Overall height with pulley guard
1840mm
1860mm
1780mm
1730mm
1420mm
V-Belt section
B-74"
B-59
B-51
B-52"
A-42"
Weight (Approx.)
500 Kgs
325 Kgs
250 Kgs
225 Kgs
110 Kgs
Motor 1440 RPM 3 Phase 440 Volts
2 H.P.
1.5 H.P.
1 H.P.
1 H.P.
0.5 H.P.
Shipping wooden case inner size LxWxH
1200x540
x1860 mm
860x460x
1580 mm
690x460x
1550 mm
850x450x
1770 mm
660x380x
1440 mm
STANDARD ACCESSORIES
• Motor Pulley
• Tapper Drift
• Manual Book
• Drill-bit angle gauge
EXTRA ACCESSORIES
• Electric Motor
• R & F Switch
• Drill Chuck
• Arbour
• Key-way Compound Slide
• Coolant Pump with tank
• Drill Vice
• Motor Belt
• Machine Lamp
Note : The design & specifications of our products shown in catalogue are subject to change for improvement without any prior notice
Download Catalog in PDF Format